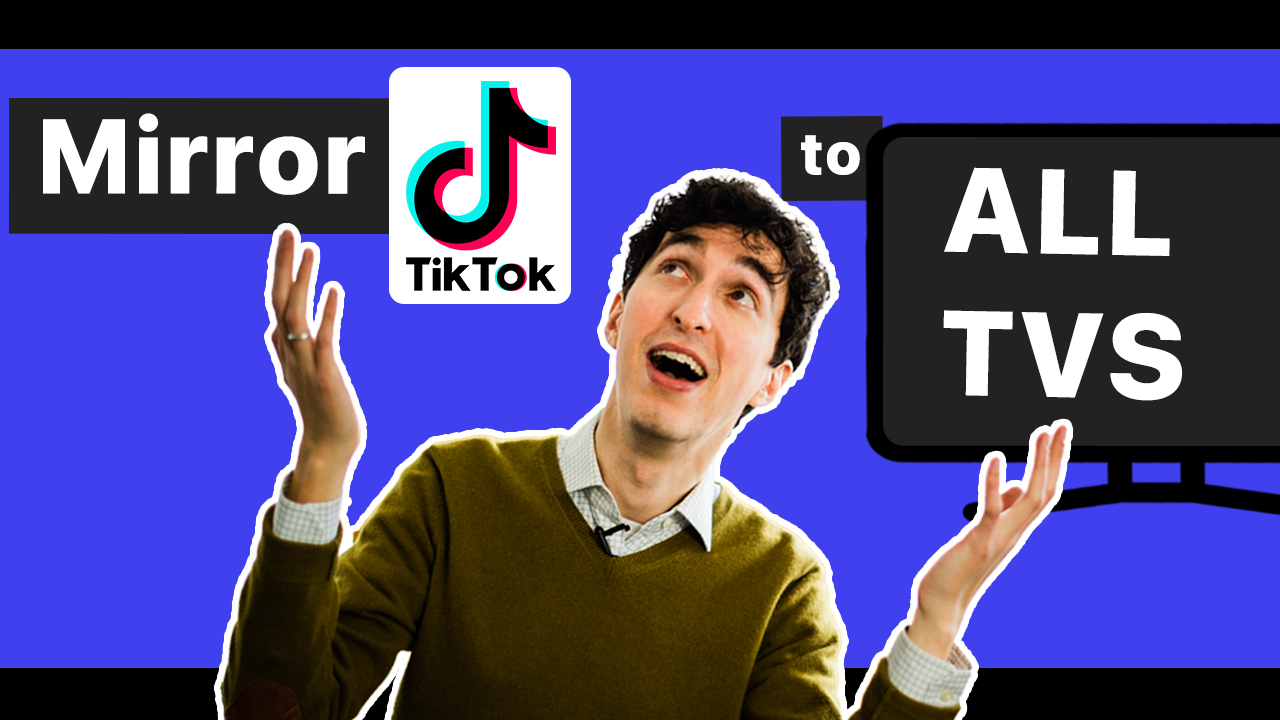 TikTok, a short-form video platform, has surged in popularity since its launch in 2016. As people increasingly turn to TikTok for entertainment, a novel question arises: how to watch TikTok on your TV?
Introducing MirrorMeister – a screen mirroring technology that is a bridge between TikTok and the big screen. With a global user base exceeding three billion, the desire to enjoy TikTok content on larger displays has grown, and MirrorMeister provides a solution for users seeking a more immersive viewing experience.
Join us as we explore step-by-step instructions on how to watch TikTok on TV, unlock the potential of screen mirroring, and enhance your TikTok experience beyond the confines of a mobile device.
Watch TikTok Videos on TV
Most of the users watch TikTok on their mobile phone, but do you know that you can also watch TikTok on TV?
Browsing through TikTok videos is a great way to keep yourself entertained. However, spending hours and hours on a small screen can be tiring. Wouldn't that be wonderful to watch your TikTok videos on a big screen?
If you have a Google TV or Android TV, you have the possibility to download the newly launched TikTok TV app. But it is only available to Google TV or Android TV users in France, Germany, and the UK. Unfortunately, you can not download TikTok TV apps outside of the aforementioned countries.
The good news is that with MirrorMeister's screen mirroring technology, you can easily connect your iOS device (iPhone/iPad) or macOS device (Mac, MacBook, or MacBook Pro) to any Smart TV or streaming devices. MirrorMeister screen mirroring app will guarantee you a much better viewing experience.
You can watch TikTok videos on your TV screen. After you hit 1000 followers to use the TikTok live stream function, you can also mirror a TikTok live stream to take your TikTok live stream experience to another level. MirrorMeister screen mirroring app will not only cast image to your Smart TVs, but also the sound.
In this article, we will guide you step by step to set it up, so you can start casting your TikTok to TV.
Watch TikTok on Roku
Step 1: Download MirrorMeister app
If you are on your Android, iPhone or iPad now, you can download MirrorMeister to your mobile device from the App Store or Google Play Store for free and start watching TikTok on Roku.
Step 2: Check connection
Make sure your iPhone or iPad connects to the same network as your Roku. But if you are not sure if they are connected to the same network, please check out our guide: https://www.mirrormeister.com/support/ios/reboot-the-router/
Step 3: Select Roku
If your TV and iPhone are connected to the same network, your iPhone will automatically search for your Roku device on your local network and it will appear on the screen. This can be your Roku Streaming Player, Stick or TV (Hisense, TCL, Insignia, Element, Onn, and Sharp). Click the name of the Roku device you wish to use to cast TikTok. And once you see the green ☑️, it means they are successfully connected.
Step 4: Start Screen Mirroring
Click the "Start Mirroring" button. In a few seconds, you will see your iPhone or iPad's screen shown on your Roku TV.
After following all the steps, you can exit the MirrorMeister app and start watching your TikTok on Roku. If you haven't installed TikTok, you can download the app in the App Store or Google Play Store.
Video Tutorial
Cast TikTok To TV From Android
To cast TikTok from your Android device to your TV using MirrorMeister, follow these simple steps:
Download MirrorMeister App:

Head to the Google Play Store on your Android device.
Search for "MirrorMeister" and download the app.

Connect to the Same Network:

Ensure that your Android device and your TV are connected to the same Wi-Fi network.

Launch MirrorMeister:

Open the MirrorMeister app on your Android device.

Select Your TV:

MirrorMeister will automatically search for available devices on your local network, including your TV.
Choose your TV from the list that appears on your Android screen.

Establish Connection:

Click on the name of your TV, and once the green checkmark (☑️) appears, it indicates a successful connection between your Android device and TV.

Start Screen Mirroring:

Press the "Start Mirroring" button within the MirrorMeister app.
In a matter of seconds, your Android device's screen will be mirrored on your TV.

Enjoy TikTok on TV:

Exit the MirrorMeister app and open TikTok on your Android device.
As you browse through TikTok videos, they will be mirrored and displayed on your TV screen.
By following these straightforward steps, MirrorMeister enables you to seamlessly cast TikTok content from your Android device to your TV, providing a more enjoyable and immersive viewing experience.
Whether you're looking to share your favorite TikTok videos with friends and family or simply want a larger screen for your own entertainment, MirrorMeister's screen mirroring technology offers a convenient solution.
How to Watch TikTok on PC
If you want to watch TikTok on PC (Windows or Mac). Simply by clicking TikTok.com. Once you open the page, log in to your TikTok account. You now can watch TikTok on PC.
Watch TikTok Video on TV from Mac
Are you using a macOS device such as Mac, MacBook, or MacBook Pro? You also download MirrorMeister on any of your macOS devices for free and start watching TikTok video from your Mac.
While there is no official TikTok app in the Mac App Store to download at this moment, all TikTok users can open TikTok.com in their web browser such as Chrome or Firefox.
The basic web application supports the full functionality of the mobile app. Therefore, instead of mirroring the TikTok app, you can screen mirror the web browser from your Mac to TV. The steps to set it up on your Mac is similar to iOS devices.
However, to enable the sound transmission onto your TV, you need to download the free "Mac Audio Driver" on your Mac.
What Makes TikTok So Successful?
TikTok is not only popular among many teenagers, but also people of other ages. But why are TikTok videos so addictive to its users and what did the app do to achieve its worldwide success in such a short period of time? The biggest reason is because TikTok is driven by its own algorithm.
The algorithm uses AI and machine learning to push for videos that are most interesting to you. Simply put, the app knows what you like.
Another deciding factor of TikTok's global success is because the app is determined to be the early adopter in growing trends. Taking dance challenges as an example. The algorithm learns what's gaining popularity at an early stage and starts to prioritise TikTok videos of similar content.
Is TikTok a Website?
TikTok, also known as Douyin in China, is a short video content platform that allows users in the network to share videos under 60 seconds. It's an app and website. TikTok was launched in 2016 by the Chinese company named ByteDance and primarily purposed to target the Chinese market. However, after its launch, the app started to gain tremendous popularity outside of China.
TikTok Statistics
By February 2021, after only four years of its initial launch, TikTok has onboard more than one billion users around the world, and the app is available in over 150 countries.
The fact that TikTok is immensely popular needs little explanation. According to the calculations of SensorTower, TikTok has broken the barrier of 3 billion app downloads in 2021. With these figures, TikTok is now in the list of apps that's so-called 'club of three billion'. Just like Instagram, Facebook, Messenger and WhatsApp.
Why Is TikTok Dangerous?
When TikTok was just starting to get big, the privacy and security of the platform was pretty bad. Initially, you could only make your videos completely private (so only you could watch them), or make it public for everyone. However, in July 2018, TikTok made some changes, making private means that only followers you've approved can watch the videos. Parental control has also been added and privacy settings have been expanded regarding private messaging.
Although most users upload fun, harmless content on the platform, there are certainly dangers for young children. Young children often cannot properly estimate the consequences of their videos. It may be possible to determine where children live or go to school. Several situations have been reported where pedophiles wandered on TikTok. In addition, many young people imitate things they see in video clips. Things that might now be suitable for youngsters.
Contact Support
If you encounter any difficulties when setting it up, or run into any issues while watching TikTok on TV, MirrorMeister has customer support that provides 24/7 assistance. Please feel free to contact the team via Facebook Messenger or simply through the "send diagnostics information" option in the app. You can also navigate your issues on the "Help Center" page and follow the troubleshooting steps to solve the problems.
MirrorMeister is an easy-to-use TV screen mirroring app for Apple devices. It works on every iPhone, iPad and all Mac computers. You can easily mirror your devices on the big TV screen. MirrorMeister app works with more than just TikTok, it can also connect popular apps such as TikTok to your Smart TVs and streaming devices.
ALSO READ:
Screen Mirror Frequently Asked Quetions
Do You Need An App To Screen Mirror?
Start screen mirroring TikTok with MirrorMeister.
Download the app from the App Store now!