What Is Vimeo Used For?
Vimeo is a video platform that focuses on quality content. It is not for nothing that it is a breeding ground for film makers and creatives. At Vimeo, the focus is entirely on your video. Vimeo is one of the most popular video-sharing platforms on the internet. It has almost the same functions and features as another internet video giant, YouTube.
Vimeo allows you to upload high-quality videos and share them with your audience. However, unlike YouTube, you can download the app and watch the video in the TV app. As of June 2023, Vimeo ended support for TV apps. As a result, users can only watch Vimeo videos on a phone or laptop.
But what can you do if you want to watch Vimeo on your big TV screen? Discover how-to easily cast your Vimeo videos on TV with one revolutionary app.
6 Advantages of Vimeo
1 | Control your own video. The video cannot be downloaded.
2 | Your video will always play in the right quality. This does not depend on the viewer or the platform. This way you ensure that the viewer gets the right experience.
3 | Vimeo gives many options to customize the video player to your liking. This makes it easier to embed the video on your own website. The video player can be completely changed to the branding of your website, think of your own colors for buttons and more.
4 | Much less ads than YouTube. This ensures a clean layout without interactive links. The focus is on your video. There is a greater chance that viewers will actually watch your video in its entirety.
5 | You can put a password on your video. This way you can share the video with a certain group.
6 | Vimeo's audience is friendly and professional. You receive relatively few negative messages, which unfortunately can still occur on YouTube. This ensures better interaction with your target group.
Can You Watch Vimeo Videos on TV?
Although there is no official Vimeo TV app available to download on your Smart TVs, you can watch Vimeo videos through a web browser.
Follow this Vimeo guide to set it up.
Unfortunately, not all TVs are compatible. You can check this list to see if your browser is supported: https://support.vhx.tv/article/727-supported-browsers
Watch Vimeo on TV
Are you tired of watching your Vimeo on your small phone screens? You can try MirrorMeister, a free screen mirroring app for Android, iPhone and iPad users. You can easily cast your Vimeo videos on your big TV screens without purchasing an expensive Apple TV or Chromecast. However, you do need to make sure your iPhone/iPad/Android and TV are connecting to the same Wi-Fi network
Step 1: Download MirrorMeister app
If you are on your iPhone or iPad now, you can download MirrorMeister to your device from the iTunes App Store or Google Play Store for free and start watching Vimeo on TV. 
Step 2: Check connection
Firstly, make sure your smartphone or tablet is connected to the same network as your TV. If you are not sure if they are connected to the same network, please check out our guide: https://www.mirrormeister.com/support/ios/reboot-the-router/
Step 3: Select TV
✦ If your TV and iPhone or Android are connected to the same network, your mobile device will automatically search for your TV on your local network and it will appear on the screen. This can be your Samsung, LG, Sony, Panasonic, Hisense TV, or streaming devices such as Roku, or Amazon FireTV.
✦ Click the name of the TV you wish to use to cast Vimeo.
✦ Once you see the green ☑️, it means they are successfully connected.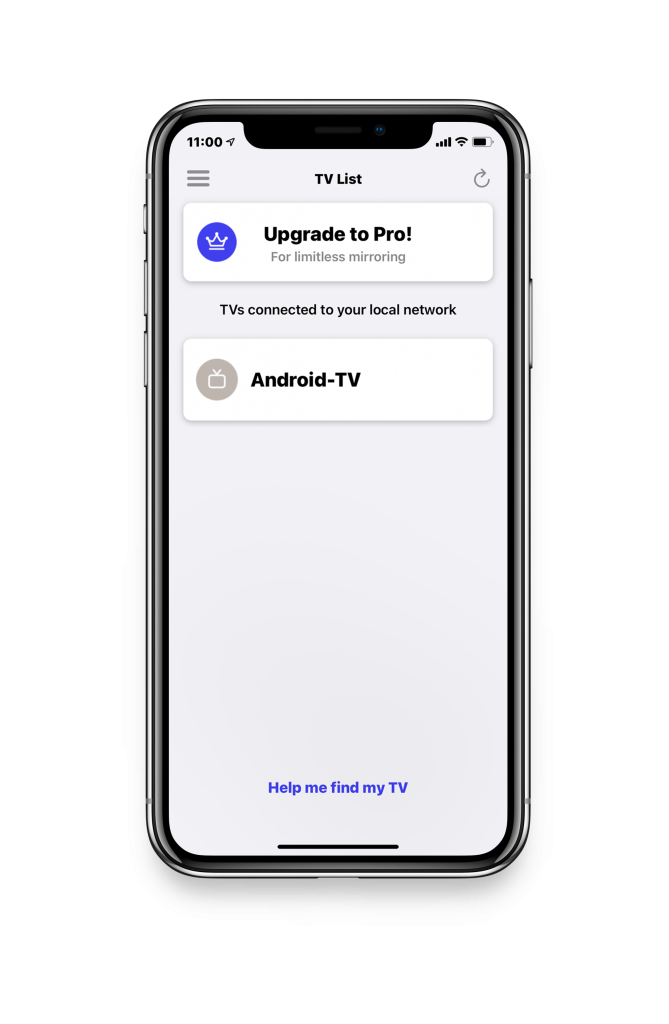 Step 4 Start Mirroring
Finally, click the "Start Mirroring" button. In a few seconds, you will see your device screen shown on your Smart TV. After following all the steps, you can exit the MirrorMeister app and start watching your Vimeo on TV. If you haven't installed Vimeo, you can download the app in the App Store or Google Play Store. 
Vimeo Tutorial
Cast Vimeo Videos from Mac to TV
Are you using a macOS device such as Mac, MacBook, or MacBook Pro? You also download MirrorMeister on any of your macOS devices for free and start watching Vimeo videos from your Mac.
While there is no official Vimeo app on the Mac App Store available to download, you can open your online courses in a web browser to cast your online courses to TV. The steps to set it up on your Mac is similar to iOS devices.
After you connect your TV with Mac, simply open a web browser such as Chrome or Firefox on your Mac, log in to your study account and you will see the content on your big TV screen. However, to enable the sound transmission onto your TV, you need to download the free "Mac Audio Driver" on your Mac. 
How Much Does Vimeo cost?
If you are using the platform as a viewer, it is completely free of charge. However, if you want to upload content to the platform, there are four types of subscriptions Vimeo offers:
✦ Vimeo Plus – €6/month
✦ Vimeo Pro – €16/month
✦ Business Version – €40/month
✦ Premium version – €70/month
Each plan offers different storage capacity and limits the amount of users. If you would like to have more detailed information on the pricing, you can visit Vimeo's official website.
Contact Support
If you encounter any difficulties while setting it up, or run into any issues during your screen mirroring session, MirrorMeister has customer support that provides 24/7 assistance. Your question will be answered within 24 hours!
Please feel free to contact our team via Facebook Messenger or simply through the "send diagnostics information" option in the app. You can also navigate your issues on the "Help Center" page and follow the troubleshooting steps to solve the problems.
MirrorMeister is an easy-to-use TV screen mirroring app for iOS and macOS devices. You can easily mirror your devices on the big TV screen as long as they are connected to the same network. MirrorMeister app works with more than just Vimeo, it can also connect popular apps such as TikTok, Instagram to your Smart TVs and streaming devices.
Video Player For Mac
Do you enjoy watching videos on your TV without any hassle? Discover VideoMeister as well!
This free app ensures that you can effortlessly play videos on your television. No cables, no format errors, no long loading times. VideoMeister plays all your video files on TV quickly, easily and wirelessly. All those downloaded videos will be played in a jiffy.
ALSO READ:
Start watching your Vimeo videos on TV with MirrorMeister.
Download the app from the App Store now.