Connect Mac to Roku in 3 Steps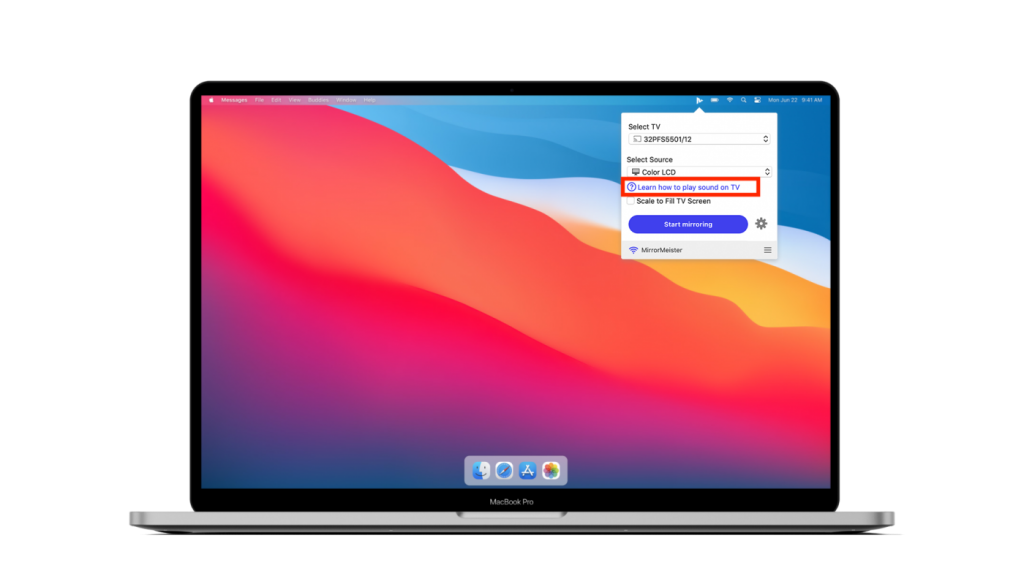 Step 2
Download free audio driver.
Open the app, click the "Learn how to play sound on TV" button to download the free audio driver and start transmitting the sound from your Mac to TV.
Step 3
Click 'Start Mirroring'.
Please follow our guide to make sure your Mac and Roku device are connected to the same network.
Don't forget to click the "Enable Sound on TV" button.
What Is Roku Exactly?
Roku is a streaming media player. This gives you access to a lot of different TV channels and streaming services. From YouTube to Spotify and all other well-known movie and series services. With one click on the button you can easily switch to your favourite channel.
Why this can be useful? Well, for example if you don't want to replace your TV with a smart TV. With Roku you just bring all streaming services to your old-school television. Cool, right?
How Roku Works?
To use Roku, you first need a Roku streaming stick. By plugging it into your television and connecting it to the internet, you can connect to all streaming services on your TV.
After creating your Roku account, you can start watching your favorite YouTuber or favorite series. Click on your remote, select a channel and start watching. Easy as that!
Is There A Free Screen Mirroring App For Roku?
Yes! It's MirrorMeister. You can try this screen mirroring app for free. Don't worry, you won't be charged. Simply download the free app and try it out. If you want to continue to enjoy all the benefits, such as wireless control, after the free trial period, you can take out an advantageous subscription.
ALSO DISCOVER:
Screen Mirror iPhone or iPad to TV
Do Some Apps Block Screen Mirroring?